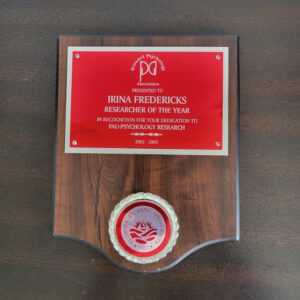 When I work with my clients, it is my goal to combine my knowledge of and skills I acquired through my involvement in several research projects in the fields of experimental,  clinical, and developmental psychology. In particular, during the senior year of my undergraduate studies at Florida Atlantic University (FAU), I was involved in Evolutionary Psychology research project aimed to investigate mediating factors of filicide or a deliberate act of filicide (i.e., a parent killing their own son or daughter; 2002-2003; Grant by the State of Colorado, Expert Witness for Public Defender's Office, awarded to Dr. Todd Shackelford, the Director of Evolutionary Psychology Lab at FAU). In recognition of my hard work and dedication to this research project, I was recognized as a Researcher of the Year 2003 by FAU Broward Psychological Association.
As a Master's degree program in Clinical Psychology student at Barry University, I conducted a study called "Against All Odds: Aggressive Behavior and Self-Efficacy as the Key Factor for High-Risk Children's Resilience." With help of my Thesis Chair Dr. Lenore Szuchman, I investigated protective factors associated with youth positive development in the context of childhood maltreatment. The focus of my research was to examine whether a high level of self-efficacy or one's belief in the power to produce, influence, and change social environment is contributing to psychological resilience against aggressive behavior development in a context of stressful life-events. I presented my research project results at the 2007 Annual Meeting of Florida Academy of Science and received an "Outstanding Graduate Student Paper" award.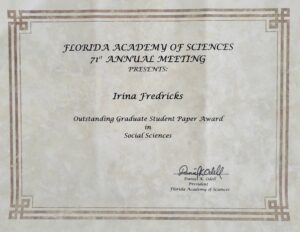 During my doctoral studies at Florida International University (FIU), I was involved in a multi-million-dollar research project aimed at evaluating the efficacy of child anxiety treatment approaches and mediators of successful treatment outcome (2008-2011; NIMH Research Grant #R01MH63997, awarded to my mentor Dr. Wendy Silverman, the Director of Child Anxiety and Phobia Program, FIU). A specific goal of the research  project was to evaluate the efficacy of psychosocial treatment approaches, such as Cognitive Behavioral Therapy (CBT), to help children and adolescents not only to overcome anxiety and phobia issues but also reach maximal growth and potential in their academic performance, and peer and family relationships. A part of the project was my Dissertation study entitled "An Evaluation of  Functional Impairment among Children with Anxiety Disorders." My goal was to examine the impact of CBT on improving daily life functioning of youth with anxiety disorders with respect to their interpersonal relationships, performance in school, and the capacity to enjoy life. The emphasis was on how, in what direction, with whom, and under what condition psychosocial treatments aimed at reducing youth anxiety disorders mediate change significantly in youth's daily life functioning in school, at home, and society at large. In 2012, I have had an exciting opportunity to present the results of my research project at both the symposium and a poster session at the 46th Annual Meeting of the Association for Behavioral and Cognitive Therapies, National Harbor, MD.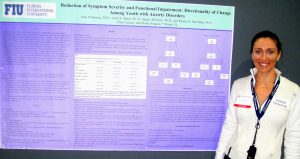 Drawing upon years of experimental, clinical, and developmental psychology research, I consider myself a scientist-practitioner who strongly values empirically-supported treatment approach  in that I use evidence-based techniques only and tailor them to specific treatment goals that my client set forth, based on their individual needs.
---
Irina Fredericks, Ph.D., LMHC,  specializes in evidence-based assessment and mental counseling services for children, adolescents, and adults. She offers her services in both Russian and English languages. The services are provided fully ONLINE via a HIPAA-approved website. For more information or to contact Dr. Fredericks, please click here.